CHRISTMAS SPECIALS
Regular price

Sale price

From $5.00

Unit price

per

Regular price

$69.90

Sale price

$59.90

Unit price

per
INTRODUCING THE FIT BASKET
Your weekly subscription of the Cleanest Farm-Fresh Greens grown in Singapore
Collapsible content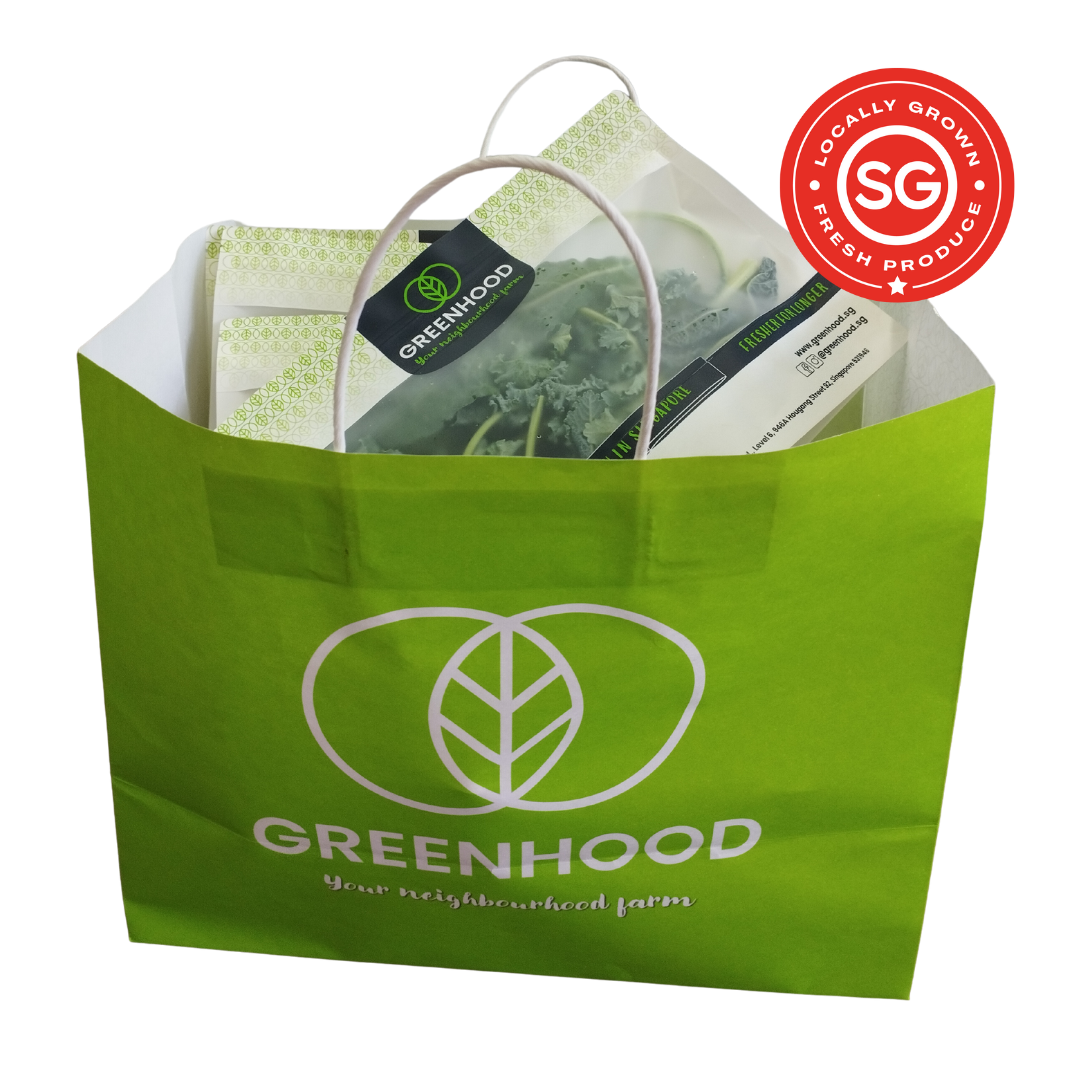 Are you eating enough leafy greens?

Keeping track of our daily meals can be tough with our busy lives. Our basket contains 5-6 bags of your favourite greens helping you consume the recommended 2 daily servings of leafy greens.
Are your greens safe?

Leafy greens can often be laden with harmful chemicals and change multiple hands before they reach you. Our farm-to-table produce is grown free of harmful pesticides. No better way of getting clean, nutritious produce for your loved ones.
Are your excited about your greens?

Our greens are nothing like what you've tried before (that's what our customers say)! What more, you get something different every week so you don't get bored of eating the same things. More info here.
WHY SUBSCRIBE?
100% Pesticide-Free

Ensure your family's well-being with our pesticide-free & soil-less produce

100% Fresh

Experience the crunchiest and tastiest greens, that reach you within 24 hours of harvest!

100% Convenient

Order once and enjoy your weekly dose of health, home delivered to you FREE

100% Healthy

Farm-to-table, our produce packs the most nutrition necessary for your family

100% Sustainable

Our proprietary solution minimizes carbon footprint. Do your part in saving the planet

100% Local

We are a local farm building Singapore's food security. Support local!
Let customers speak for us
GET THE BEST GREENS FOR YOUR FAMILY
JOIN 100s WHO LOVE OUR PRODUCE
GOT QUESTIONS?
Which vegetables do you grow?
What does the FIT basket contain?

You can select the type of basket (Asian Leafy or Salad Greens) that you like. You will get 5-6 bags of fresh greens containing 3 or more varieties of greens every week based on the type of basket you have selected. More info here.
When will I receive the greens?

Our default delivery day is Saturday. Please inform us in advance if that doesn't work for you.
Can I try ordering once before signing up for the subscription?

Yes, you can order a single basket first before signing up for the subscription by selecting 'One-time purchase'.
What if I am travelling over a week?

No worries. Please inform us in advance and we can reschedule for you.
INTERESTED IN A-LA-CARTE ?
Regular price

$6.45

Sale price

$5.45

Unit price

per

Regular price

$5.95

Sale price

From $4.95

Unit price

per

Regular price

$2.95

Sale price

$2.45

Unit price

per

Regular price

$5.95

Sale price

$4.95

Unit price

per

Regular price

$5.95

Sale price

$4.95

Unit price

per

Regular price

$3.95

Sale price

$2.95

Unit price

per

Regular price

$5.95

Sale price

$4.95

Unit price

per